Mukesh Ambani VS Ratan Tata Comparison
Mukesh Ambani VS Ratan Tata Comparison: In today's article, we will compare the two powerful people of India, Mukesh Ambani, and Ratan Tata and we will also see why Ratan Tata is behind Mukesh Ambani, despite the net worth of Ratan Tata's company being more than Mukesh Ambani's company?
1. Personal life
If we talk about the personal lives of these two, then Mukesh Ambani was born on 19 April 1957 in Aden city of Yemen. His father's name was 'Dhirubhai Ambani' and his mother's name is 'Kokilaben Ambani'. Mukesh Ambani also has 1 younger brother Anil Ambani and 2 sisters, Deepti Salgaokar and Nina Kothari. Mukesh Ambani was married on 8 March 1985 to Nita Ambani. And today they also have three children, Akash Ambani, Isha Ambani and Anant Ambani.
On the other hand, Ratan Tata was born on 28 December 1937 in a Parsi family in Mumbai. His father's name was 'Naval Tata' while his mother's name was 'Sonu Tata'. Naval Tata is the grandson of Jamsetji Tata, the founder of the Tata Group. Ratan Tata has a brother named 'Jimmy Tata'. In 1948, when Ratan Tata was 10 years old, his parents separated, after that, he was raised by his grandmother 'Navjbai Tata'. For your information, let me tell you that Ratan Tata has not married yet, he tried to get married 4 times but due to some reasons, he could not get married to date.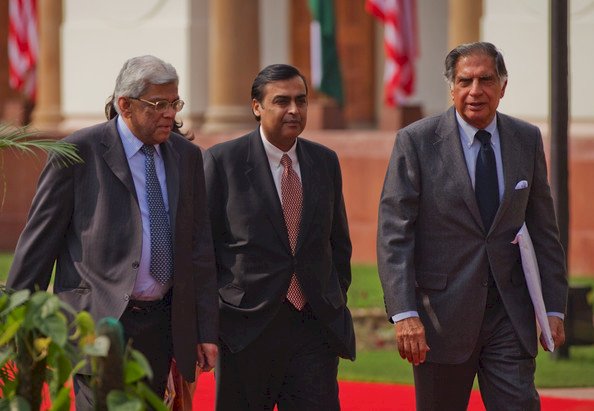 2. Qualification
If we talk about the qualification of these two, then Mukesh Ambani did his schooling at Hill Grange High School in Mumbai. After that, he took a degree in chemical engineering from the Institute of Chemical Technology College in Matunga, Mumbai, and went to Stanford University in California for further studies, but due to the increasing work pressure on his father Dhirubhai Ambani, he left after 1 year and Came back to India and joined Reliance company.
While Ratan Tata's primary education was done at Campion School in Mumbai and he did his further studies at the cathedral and john Connon school in Mumbai and Bishop Cotton School in Shimla, after his secondary education, Ratan Tata did his studies in Riverdale Country of New York City. Later he earned a degree in Architecture from Cornell University, in addition, he completed the 7-week Advanced Management Program at Harvard Business School.
3. Career
If we talk about a career, then Mukesh Ambani started his career in 1981 by joining his father Dhirubhai Ambani's company Reliance Industries Limited. And only a few years after joining the company, Mukesh Ambani started looking after his father's business. For Reliance Company after petrochemical he took his company forward in the telecommunication and retail sector, let me tell you that since 2008, the franchise of IPL team Mumbai Indians is also with Mukesh Ambani. In 2016, Mukesh Ambani launched Reliance Jio Infocomm and in just one year it became the largest telecommunications company in India, leaving behind companies like Idea, Airtel, and Vodafone. It is said that every minute of Mukesh Ambani's earnings is about 2 lakh 35 thousand rupees.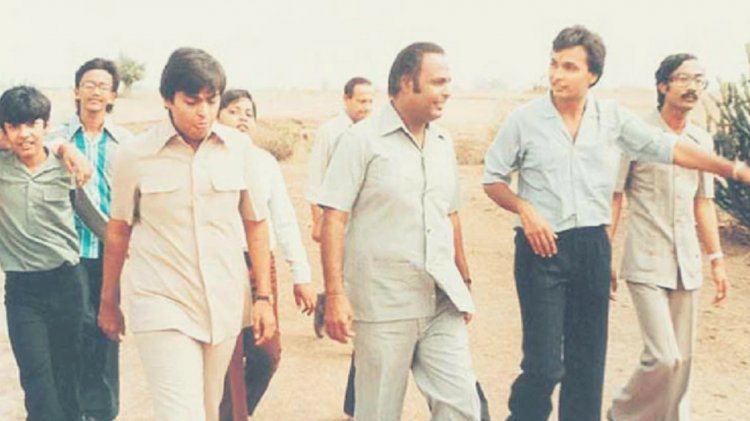 On the other hand, Ratan Tata's started his career in 1960 as a general worker in a Tata company. Ratan Tata also made a lot of changes after joining the company, due to which the growth rate of his company increased very well, due to which J. R. D. Tata Handover the chairmanship to Ratan Tata in 1991, and after that Tata Group touched new heights. In the initial days, Ratan Tata had to face a lot of difficulties, but he remained adamant and today Tata has become a global brand. Under the leadership of Ratan Tata, some global brands were also acquired such as the jaguar, Tetley Tea, and land rover.
Ratan Tata was already interested in vehicles and believed that every common man of India should have a car and that is why he launched the world's cheapest Tata Nano car in the market for just 1 lakh rupees. Ratan Tata has received awards not only in India but also outside India and Also he was awarded Padma Bhushan in 2000 and Padma Vibhushan in 2008 by the Indian Government.
4. Resident
Friends, let me tell you that Mukesh Ambani's house is located on Altamount Road in South Mumbai. Antilia, the 27- floor house of Mukesh Ambani spread over 400,000 square feet. According to forbes.com, It is the most expensive house in the world, the cost of this house is about $US3 million.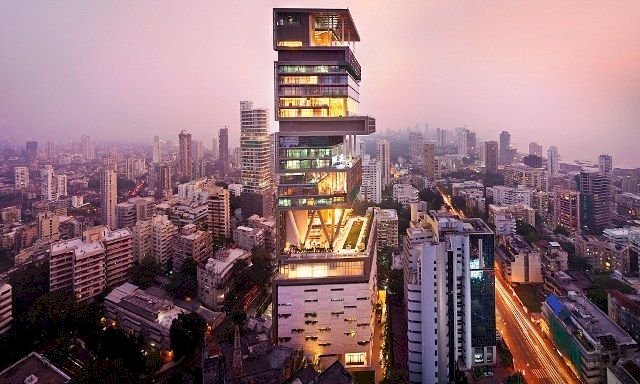 While Ratan Tata prefers to live a very simple lifestyle, Ratan Tata lives in a bungalow spread over only 13,350 km² in Colaba, South Mumbai.
5. Net worth
If we talk about the net worth of these two, then the net worth of Mukesh Ambani is $96 billion, and the total income of Mukesh Ambani's Reliance Industries Limited is $233 Billion.  While Ratan Tata's net worth is only around $1 Billion but the total income of Tata Group was $350 billion as of May 2022. So, you can see from the statistics, Tata Group is far ahead of Reliance Industries, yet you must be wondering why Ratan Tata's net worth is only $1 Billion!

This is because Ratan Tata donates 66% of his company's earnings. Whatever profit his company gets he donated to social welfare, and this money is not recorded in his personal financial statement. If he stops giving this charity, then today he can leave behind Mukesh Ambani and become the richest person in Asia.
6. Richest person ranking
If we talk about the list of the world's richest people, then Mukesh Ambani has been at the first place in the list of India's richest people this year, and Mukesh Ambani is number 9 in the list of the top 20 billion in the world.  While Ratan Tata has not been found anywhere on this list as he donates his money a lot.
7. Top Companies / Products
Now finally Let's find out the top companies of these two.
Top companies of Mukesh Ambani's Reliance Industries Limited are
Reliance Industries
Reliance PetroleumIPCL(Indian Petrochemicals Corporation Limited)
Reliance Jio Infocomm Limited
Reliance LogisticsReliance Power
Reliance Capital
Reliance Mumbai Metro
Reliance Retail
Reliance Life Sciences
While Ratan Tatajika Tata Group is one of the largest business groups in the world and today in 2022 they have business in more than 100 countries. in top companies of the Tata group,
Tata steel
Tata Motors
Tata Consultancy Services (TCS)
Tata PowerTata Communications
Tata Chemicals
Tata Global Beverage
voltas
Indian Hotels Company Limited
Titan Industries