Pune Vs Hyderabad City Comparison | Hyderabad Vs Pune Comparison
Pune Vs Hyderabad City Comparison: In this article, we are going to compare two big Metro Cities of India Hyderabad and Pune City. We are going to compare these two cities on the basis of more than 10 factors like cost of living, GDP, famous food Literacy Etc.
Hyderabad
Talking about Hyderabad city, Hyderabad is the capital of Telangana state. The history of Hyderabad is very old. Here Qutubshahi, Mughal, and Nizamon are ruled. Hyderabad City has many mosques, churches, temples, and famous markets. The city of Hyderabad was established by Muhammad Kuli Qutub Shah in 1589.
Pune
On the other hand, Pune city Known as the Oxford of the East, is a very important city in the state of Maharashtra. The city of Pune is an important part of the life of Chhatrapati Shivaji Maharaj and the history of the Maratha Empire. Pune is also a very important industrial center in Maharashtra and India. There are many big industries like Tata Motors, Bajaj Auto, and Bharat Forge situated in Pune city.
Mumbai VS Banglore City Comparison
GDP of Pune vs Hyderabad
If we talked about the GDP, then the GDP of Hyderabad City is around $75 billion and It is the 3rd largest city in India in terms of GDP. If we talk about the GDP of Pune city, then Pune's GDP is $69 billion and It Ranked seventh in terms of GDP.
Area of ​​Pune vs Hyderabad
Talking about Area. The total area of ​​Hyderabad city is 7,257 km2 While the area of ​​Pune city is 7,256.46 km2.
Let me tell you, after the independence of India in 1947, the state of Hyderabad was made by the parts of Telangana, Maharashtra, and Karnataka. And this state wanted to live separately from India. Till 1948 Hyderabad state remained under the rule of Nizam. Then in September 1948, the Government of India joined it in India through Operation Polo. Nevertheless, till 1959, it used to run its own currency in this state. Then in 1966, this state was dissolved to become Andhra Pradesh. Which was divided into two parts in 2014 and the new state was named Telangana.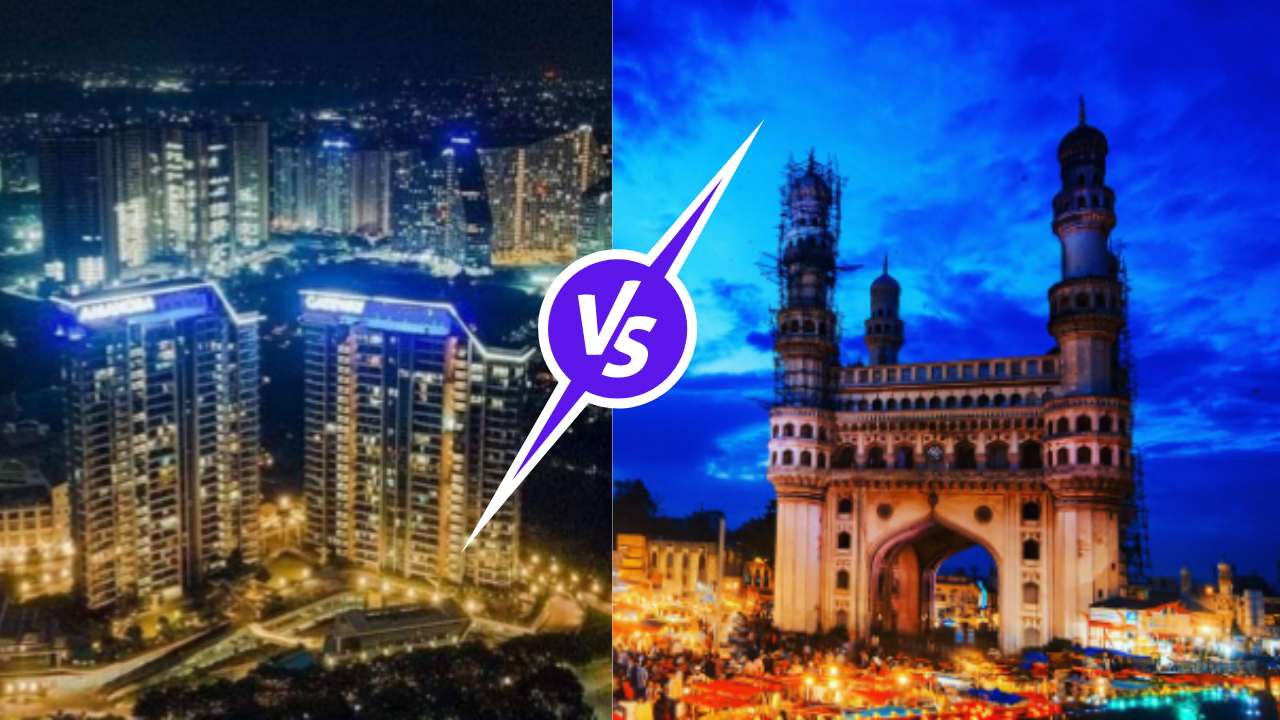 The population of Pune vs Hyderabad
Talking about the population, the population of Hyderabad is 1.1 crores and It is the fourth largest city in India after Mumbai, Delhi, and Bangalore. On the other hand population of Pune is around 70 lakhs and It is the second-largest city in Maharashtra and 9th largest city in India.
Cost of Living of Pune vs Hyderabad
If you talk about the cost of living, Hyderabad is much cheaper than Pune in terms of food, clothes, entertainment, and housing. The average monthly room rent in the city center is around 14000 to 16000 rupees in Hyderabad, while It is Rs 17 to 20,0000 in Pune. The room rent price in Pune is approximately 16% higher than in Hyderabad. While Consumer Prices and Groceries Prices are 5% cheaper than in Hyderabad.
Famous food of Pune vs Hyderabad
Now Let's find out some famous food of these two cities
In Hyderabad, you can get to eat Hyderabadi Biryani, Hyderabadi Haleem, Boti Kebab, Qubani-K-Meetha, Mirchi Ka Salan, Nihari, Hyderabadi 65, Murg Do Pyaza, Gosht Pasinda, Shirkhurma, and Kama Samosa.
While in Pune, you will get to eat Puneri Missal, Bhakarwadi, Kanda Poha, Upma, Vada Pav, Peethal Bhakar, Pav Bhaji, Dabeli, Sago Khichdi, and Thalipith.
Airport of Hyderabad vs Pune City
Talking about the airports. Hyderabad's Rajiv Gandhi International Airport (IATA: HYD) is the largest airport in terms of area in India. It is spread across 5,500 acres (2,200 ha) and it is the 4th Busiest airport in India. While Pune's Pune Airport 10th Busiest airport in India.
Literacy rate
Talking about Literacy rates. The Literacy rate of Hyderabad city is 82.96% while the Literacy rate of Pune is 86.15%.
Hyderabad
Pune
State
Telangana
Maharashtra
GDP
$75 Billion
US$69 billion
Area
650 km²
Mega-City: 331.26 km²

Metro City: 17,256.46 km²

Population
1 Crore
70 Lakh
Religion
 64.93% Hindu
30.13% Muslims
2.75% Christians
& Others
79.43% Hindu
11.03% Muslims
3.94% Buddhist
2.45% Jains
3.15% Christians& Others
Room Rent
Rs. 14000 to 16000
Rs. 17 to 20000
Airports
Rajiv Gandhi International Airport
Pune International Airport
Literacy rate
82.96%
86.15%
Famous Tourist Spots
Charminar

Golconda Fort

Ramoji Film City

Hussain Sagar Lake

Birla Mandir

Mecca Masjid

Qutb Shahi Tombs

Nehru Zoological Park

Snow World

Chowmahalla

Aga Khan Palace

Shaniwar Wada

Sinhagad Fort

Chaturshringi Temple

Dagadusheth Halwai Ganpati Temple

Saras bag

Lohagarh Fort

Lavasa

Lonavala
Final Words
In conclusion, Both cities have a similar climate with hot summers and mild winters. Both cities have a good education system with reputed universities and institutes. Hyderabad is known for its IT industry and has a higher number of job opportunities in the tech sector. Pune, on the other hand, has a diverse industrial base with opportunities in manufacturing, automotive, and other sectors. make sure to visit both these cities & decide for yourself which one is right for you.
Also Read,