Rajdhani Express VS Shatabdi Express Comparison | Difference Between Shatabdi and Rajdhani Express Trains
Rajdhani Express VS Shatabdi Express Comparison: In today's article we are going to compare two premium trains in India, the Shatabdi Express, and the Rajdhani Express train.
Friends, both of these trains always get high priority on the tracks of Indian Railways.
Introduction 
Rajdhani Express is a passenger train operated by Indian Railways that connects New Delhi, the capital of India, with the major cities of the rest of the states. The first Rajdhani Express in India was run 52 years ago on 3 March 1969.
While the Shatabdi Express is also a passenger train run by Indian Railways, which connects metro cities to other cities. The first Shatabdi Express was run in India on 14 November 1988.
Speed of Shatabdi vs Rajdhani Express | Shatabdi Express speed VS rajdhani express speed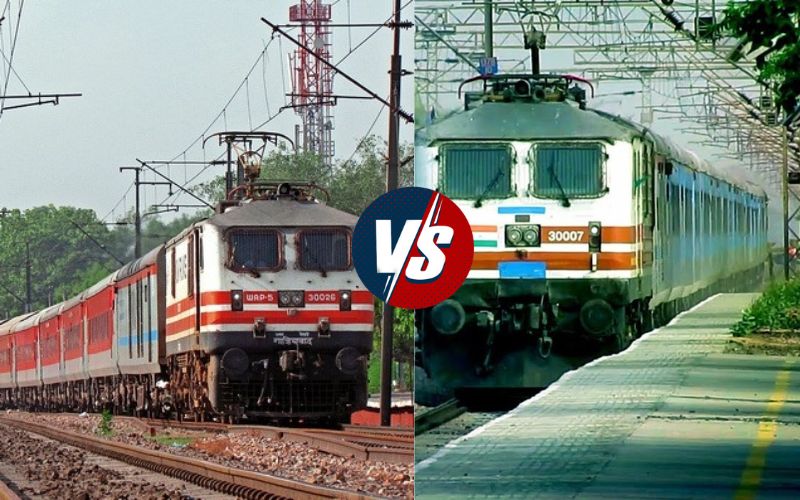 Shatabdi express speed VS Rajdhani express speed
Rajdhani Express Speed: Talking about the train speed, the maximum speed of Rajdhani Express is 130-140 km/hr and the average speed of this train is 80 km/hr. Let me tell you that Mumbai – Rajdhani Express is the fastest train among Rajdhani trains which covers the journey of 1386 km in 15 hours and 15 minutes.
Shatabdi train speed: Shatabdi Express has a maximum speed of 130 km/hr, but on some routes, this train is also run at a speed of 155 km/hr and making it the third fastest express train in India after Gatimaan Express and Vande Bharat Express. The average speed of Shatabdi Express is 85 to 90 km/hr.
Coches of Rajdhani VS Shatabdi Express
If we talk about the coaches, Rajdhani Express and Shatabdi Express are fully air-conditioned trains. You will get to see only First AC, Second AC, and Third AC coaches in Rajdhani Express.
While in Shatabdi Express, due to less travel time, you will get to see only AC chair cars and executive chair cars and in some trains, you will get to see the three-way seating arrangements of the Anubhuti chair class type.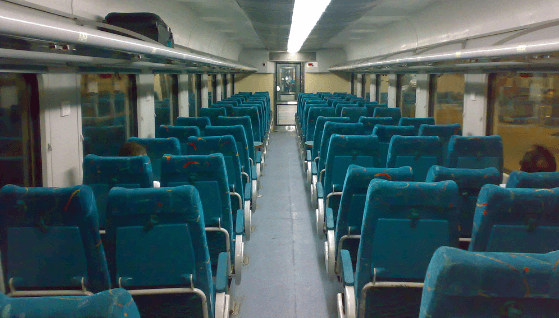 Also, on both of these trains, the food charges are already included in the ticket fare, so the food and drinks are provided to you free of cost.
Ticket Cost of Shatabdi Express vs Rajdhani Express
Talking about the ticket price, the cost of Rajdhani Express train tickets is higher due to more distance of the train than the train of Shatabdi Express. If we talk about the ticket price of Rajdhani Express running between Mumbai to New Delhi, then its first class AC Coach ticket is ₹ 4374, second class AC ticket is ₹ 2519 and third class AC ticket is ₹ 1736.
On the other hand, the AC chair car ticket for the Shatabdi Express train running between New Delhi and Bhopal costs ₹ 1,260 and the AC executive class ticket is ₹ 2,385.
Number of trains of Shatabdi Express vs Rajdhani Express
If we talk about the number of trains, then today there are a total of 24 trains of Rajdhani Express and a total of 23 trains of Shatabdi Express, serving on the tracks of our Indian Railways.
Travel Distance of Shatabdi Express vs Rajdhani Express
If we talk about the distance of the journey, then all the trains of Rajdhani Express which are being run on the tracks of Indian Railways are being run over a distance of more than one thousand kilometers. Dibrugarh Town Rajdhani Express is the highest distance covered by train between Dibrugarh in Assam to New Delhi which covers a distance of 2,434 km in 37 hours.
While Shatabdi Express Covered a Distance of fewer than 1 Thousand kilometers and New Delhi Habibganj Shatabdi Express is the most popular train which covers 705 km between Habibganj Bhopal to New Delhi in 8hrs 25mins.
Shatabdi Express vs Rajdhani Express Comparison: So friends, which train do you choose for traveling, Rajdhani Express or Shatabdi Express, definitely tell us in the comment section.
Also, Read,